Legislative Education Project
The Governor´s Council on Disability sponsors the Legislative Education Project (LEP) during the legislative session.
The purpose of the LEP is to educate and motivate individuals by providing opportunities to become more active in creating positive public policies for people with disabilities.
The LEP is available for individuals/organizations that are a novice to the legislative process or need additional learning about the Missouri legislative process regarding disability policies or proposed legislation that impact people with disabilities.
Registration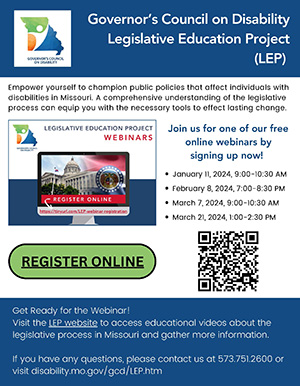 In 2024 the LEP will consist of four webinars. Each one will discuss the legislative process, communicating with legislators, and current state bills related to disability. These will be provided at no cost to participants. WebEx software will be used to conduct each webinar. If accommodations are needed, please register at least two weeks prior to the webinar date so accommodations can be arranged in a timely matter. They will be offered on the following dates:
January 11, 2024, 9:00 - 10:30 AM
February 8, 2024, 7:00 - 8:30 PM
March 7, 2024, 9:00 - 10:30 AM
March 21, 2024, 1:00 - 2:30 PM
Download "Tips for meeting with your legislators" to get ready for a visit with your elected officials:
Learning Modules
The LEP also provides the three learning modules and three videos posted below. Each learning module and video is designed to easily help you understand Missouri legislative topics. You may select the ones that you want to listen to or watch at your convenience. After viewing the learning modules, please consider completing a short evaluation. Thank you.
Navigating the House and Senate websites
Your Elected Officials and General Assembly
Understanding How a Bill Becomes a Law in Missouri