Annual Youth Leadership Award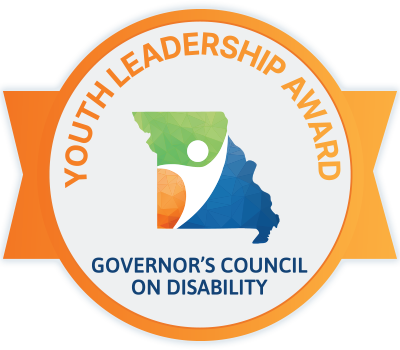 Winners exemplify standards of excellence in enhancing life for individuals living with disabilities
The Governor's Council on Disability is now accepting nominations for the 2023 Youth Leadership Award.
The annual Youth Leadership Awards program recognizes outstanding Missouri youths (age 16-26) with a disability that have demonstrated exemplary leadership by making a positive difference in their communities and beyond.
A youth with a disability shall meet one or more of these criteria to be eligible for the award:
Demonstrate leadership skills to improve the lives of individuals living with disabilities
Advocate for positive changes and inclusive practices for the disability community
Advocate for accessibility of programs or environments
Engage in activities to promote disability awareness and etiquette
These leadership and advocacy efforts can be demonstrated at a local, regional, or state level.
The Governor's Council on Disability selects one winner and one honorable mention from the submitted nominations. The awards are presented annually at the Power Up assistive technology conference.
New in 2023: The Youth Leadership Award winner and Honorable mention will receive a recognition badge that can be used to highlight their achievements on their resumes, email signatures, websites, LinkedIn profiles, etc.
Please see the instructions for nominations for more information. Deadline for nominations is January 31, 2024.

2022 Youth Leadership Award
Winner - Holly Conner, Clayton High School - St. Louis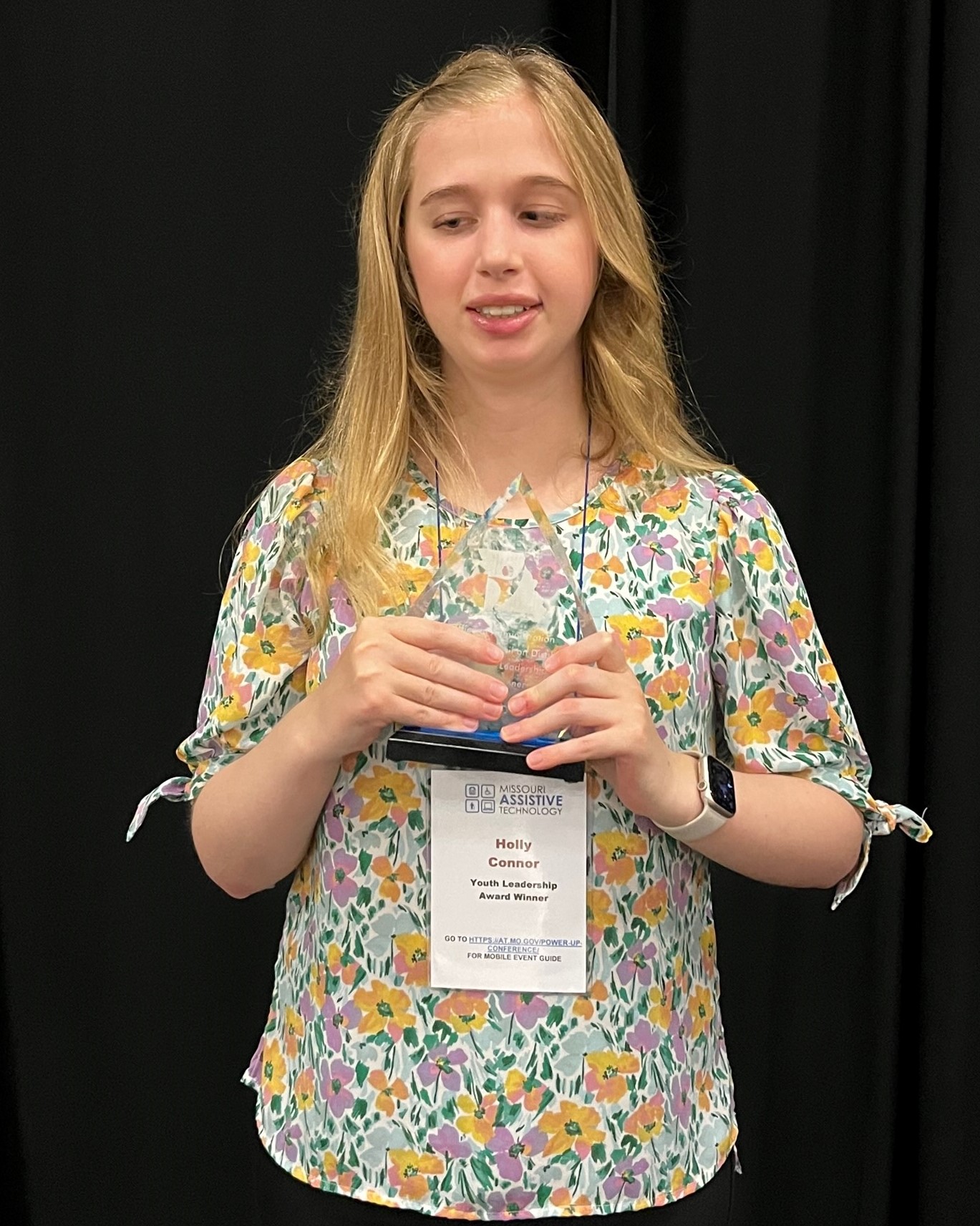 Holly Connor is senior at Clayton High School in St. Louis, who is an aspiring singer, actor, and musician. Holly plans to attend Webster University this fall to pursue a degree in Vocal Performance and piano, and she is working toward to becoming a voice over actor for animated films and cartoons. Holly hopes to continue to create and expand awareness, acceptance, and inclusion, especially within the Arts, as she wants arts for all.
Holly has extraordinary music skills, and her passions are performing live musical theater, singing opera, and playing instruments. She plays piano, tap dances, studies ballet, composes original music, loves telling stories, and has a natural gift of voice and comedic timing. In the past six years, she has been cast in over eighty musicals, plays, cabarets, and musical reviews in school, youth theaters, and professional organizations. She sings soprano in chorale, jazz, and a cappella show choirs. Holly has voice training in both classical and opera singing, and musical theater. Holly has sung the national anthem a cappella at St. Louis Blues games. This year, she was the pianist in an orchestra alongside professional musicians.
Holly is an award-winning Braille user and has done disability awareness presentations to enlighten others. Holly does not let her disabilities interfere with sharing her message that people of all abilities can be included. She has made friends with others in the arts world, education world, and the disability community. Throughout her life, Holly has spread story of awareness, acceptance, and inclusion with others as she also strives to improve the quality of life of other people with disabilities.
Honorable Mention - Samantha Keeney, Van Buren High School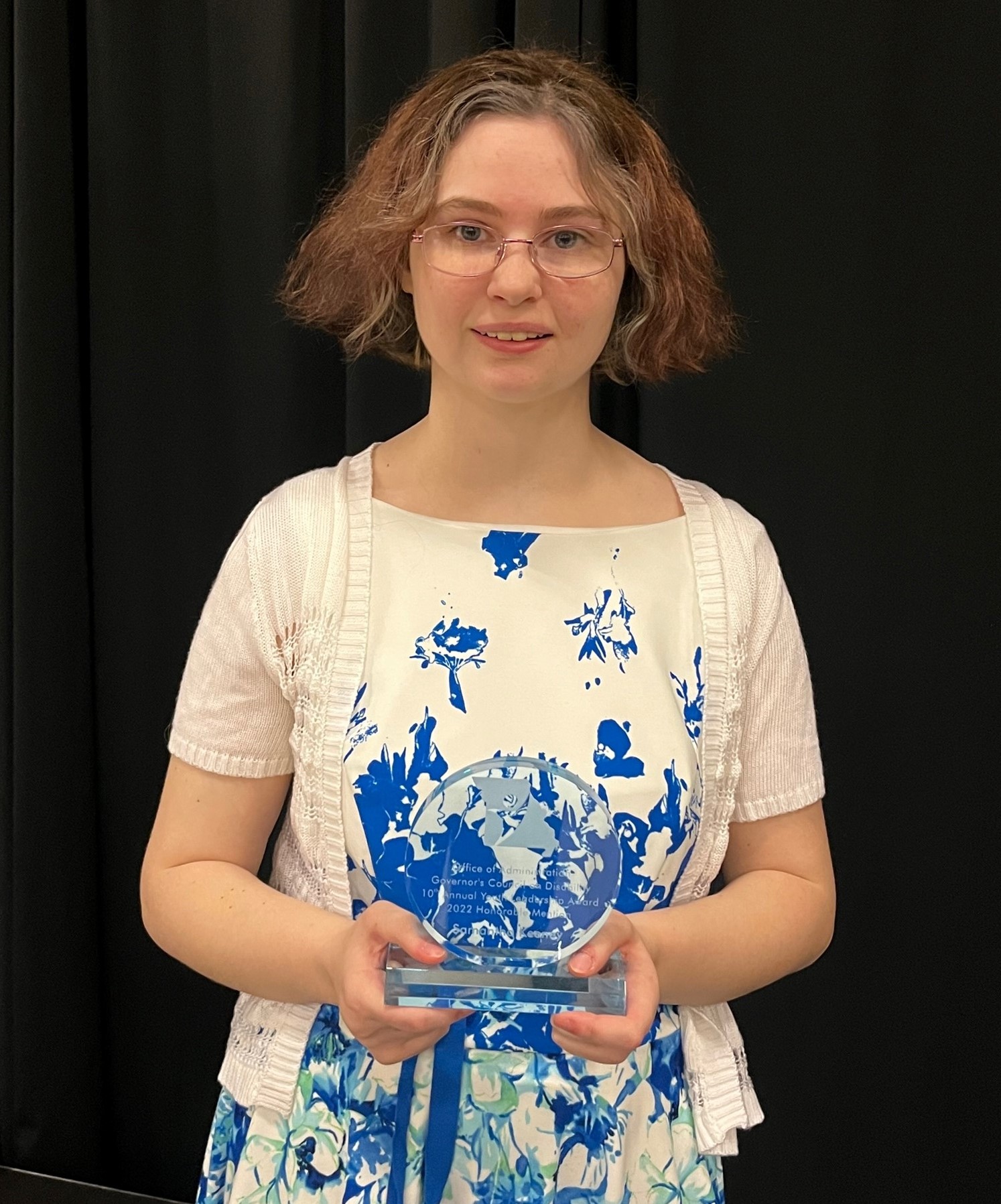 Samantha (Sam) Keeney is a senior at Van Buren High School, and a graduate of the 2022 Missouri Youth Leadership Forum. Sam is a very outgoing young woman. She enjoys being a member of her high school's Quiz Bowl team, and has achieved the all-conference title for two years. Sam is also a very active member of the Senior Beta Club. She does not let her disability define or limit her future. Recently, she provided a presentation at a transition conference to share her experience at the Missouri Youth Leadership Forum.
Sam plans to attend Three Rivers Community College in the fall, before attending Missouri State University in Springfield to study history and become a teacher. Her goal is to make history fun for all of her students.
Sam advocates for others, and provides support and encouragement for her peers. She is very studious about knowing the laws and regulations when it comes to having any disability. She wants everyone to be treated fairly and respectfully, and sees everyone as equal.
---
For additional information, please contact the Council at 573-751-2600 or by email at gcd@oa.mo.gov.