Disability Employment Awareness Month Poster Contest
National Disability Employment Awareness Month (NDEAM) is observed each year in October to celebrate the contributions of workers with disabilities and educate about the value of a workforce inclusive of their skills and talents.
The Governor's Council on Disability (GCD) has initiated a poster contest to celebrate Disability Employment Awareness Month in Missouri. The posters are intended to spark a conversation about employment of people with disabilities. The poster contest is open to all Missouri residents. The artwork shall relate to employment inclusion/the significance of employment for people with disabilities.
The GCD will select the winning artwork from all entries through a submission and judging process. Please see submission guidelines below.  The winning artwork, along with information about the artist, will be featured on a poster that will be promoted statewide during the month of October.
To participate in the 2024 GCD NDEAM Poster Contest, please review the guidelines below and submit your entry form and artwork by September 15, 2024. All entries must be received by the deadline to be eligible to win.
To find out more about National Disability Employment Awareness Month, visit https://disability.mo.gov/NDEAM.htm
2023 Poster Contest Winner
The Governor's Council on Disability has selected Kimberley Mowatt's artwork as the winning entry for the 2023 Disability Employment Awareness Month poster.
Gallery of Entries
Previous Winners
2022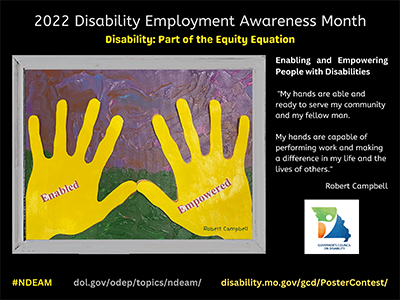 2021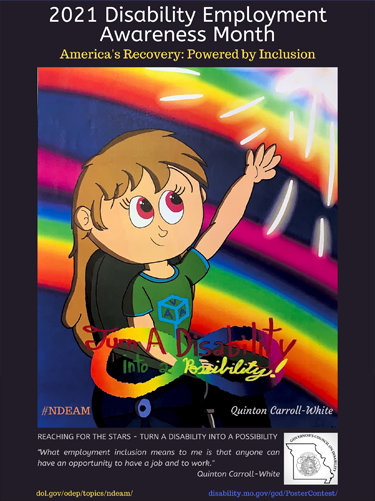 2020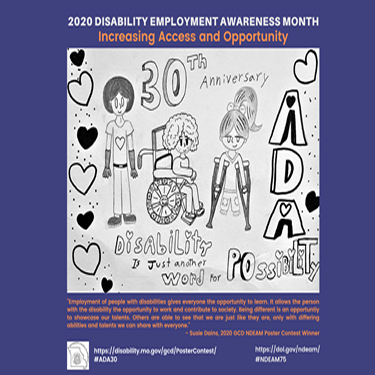 2019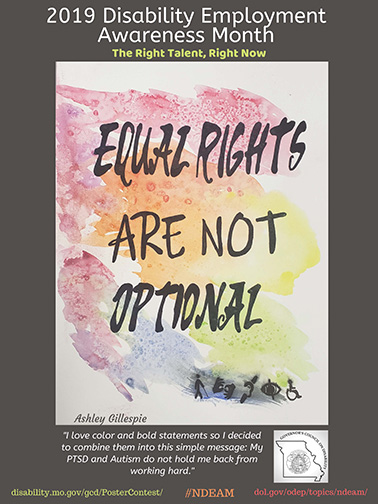 For questions or more information, contact:
Governor's Council on Disability
PO Box 1668
Jefferson City, MO 65101
Email:  gcd@oa.mo.gov
Phone:  573-751-2600
For more information about National Disability Employment Awareness Month, please visit https://www.dol.gov/odep/topics/ndeam/