Annual Inclusion Award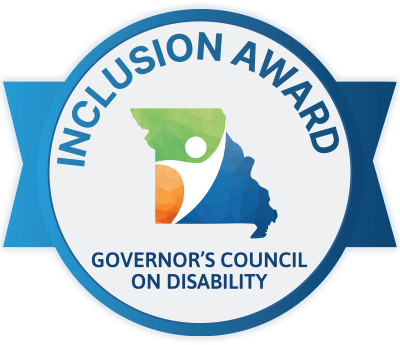 Winners exemplify standards of excellence in enhancing life for individuals living with disabilities
The Governor's Council on Disability is now accepting nominations for the 2023 Inclusion Award.
The Governor's Council on Disability's annual Inclusion Award program recognizes and honors Missourians who demonstrate excellence in leadership for best practices in inclusion of individuals with disabilities.
The Inclusion Award and one Honorable Mention are presented annually to recognize private and public employers, individuals, businesses or organizations in Missouri that have worked toward greater disability inclusion by taking exceptional, proactive, and innovative measures to integrate and mainstream people with disabilities into their programs, activities, and operations.
The Governor's Council on Disability selects one winner and one honorable mention from the submitted nominations. The awards are presented annually at the Power Up assistive technology conference.
New in 2023: The Inclusion Award winner and Honorable mention will receive a recognition badge that can be used to highlight their achievements in email signatures, websites, LinkedIn profiles, etc.
Please see the instructions for nominations for more information and eligibility criteria. Deadline for nominations is January 31, 2024.

2022 Inclusion Award
Winner - Tim Lewin, Embassy Suites, St. Louis – St. Charles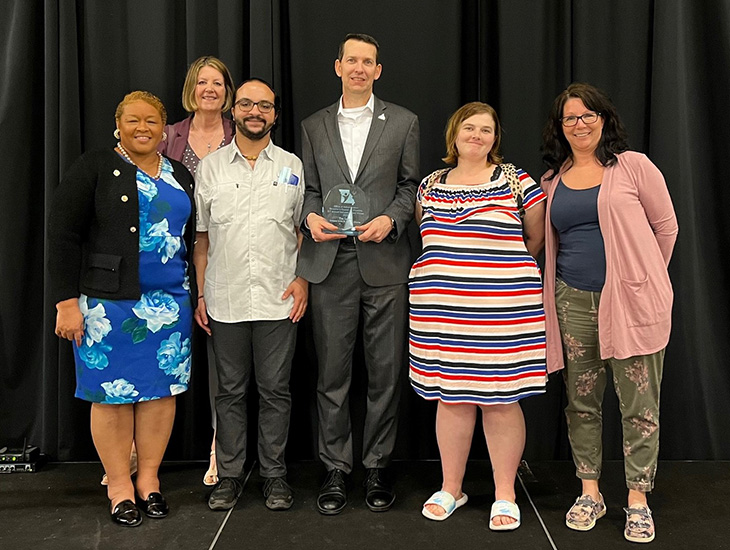 Embassy Suites St. Louis – St. Charles and General Manager Tim Lewin have demonstrated excellent inclusive practices for many years. Lewin has created a dynamic, supportive culture that welcomes individuals with disabilities to the hospitality industry. He built this culture by partnering with local programs including Easter Seals, Community Living, Project Search, and most recently, the BCI Skills Center and the St. Charles Bridge to Success program.
The Skills Center partnership began in the summer 2021 and trains adults with disabilities for direct hire. The program teaches hard and soft skills on-site at the hotel. Today, the partnership has resulted in four completed classes and six new hires. The program's six-month job retention rate is 100%. The Bridge to Success partnership began in 2019. In the Bridge program's first three years, 33 high school students completed internship rotations at Embassy. These experiences give students an up-close look at competitive employment. Embassy uses a simple mentor model to welcome individuals with disabilities and reports that inclusion has naturally become part of its culture. Organic growth has led to adults with disabilities comprising 25% of the total staff.
With Lewin at the helm, Embassy Suites has demonstrated a deep and lasting commitment to inclusion. The business has gone above and beyond, even during the pandemic, to mentor and hire. Lewin models kindness, understanding, and a work ethic beyond reproach, which leads everyone on his team to do the same. He is an inclusion champion in every way.
Honorable Mention - Brock Sousa, Hannibal Public High School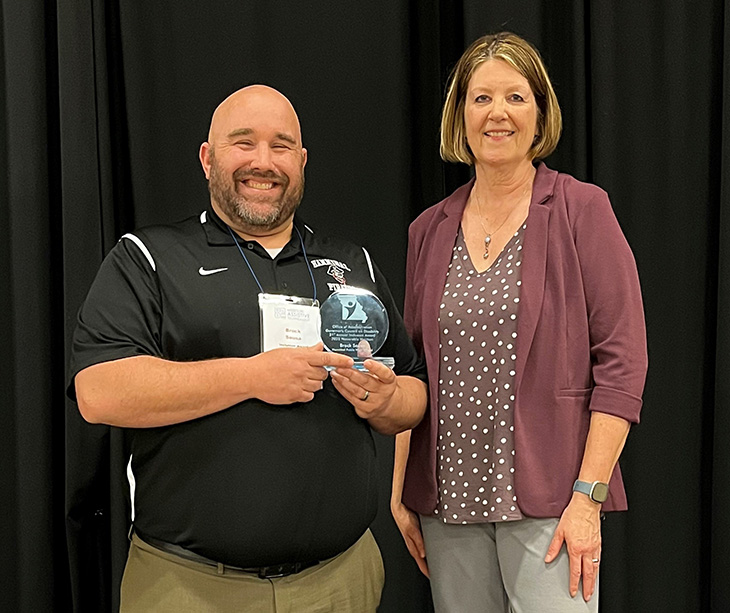 Brock Sousa is a teacher for the Hannibal Public High School, but other titles include coach, advocate, mentor, friend, and jack-of-all-trades. Sousa embodies inclusion and employment first in a rural area. He has been helping others see the importance of a diverse workforce, inclusive practices, and community outreach opportunities.
This started with the BEST Program (Basic Employment Skills Training) in 2017. The program has collaborated with Hannibal Regional Hospital, GAMM (Workforce Development), Vocational Rehabilitation, Learning Opportunities Quality Works, and two County Senate Bill 40 boards. In the first BEST year, four students applied for jobs and began working at Hannibal Regional during the school day through the school year. Sousa made sure that students received the same orientation and followed all hospital guidelines just as every other hospital employee and he ensured that the hospital received specialized training on inclusive workplace practices. Today, the program has grown to 16 students, 4 community job sites, and many continued agency partnerships.
Sousa continues to encourage and implement tiered programs to prepare students throughout their middle and high school careers to prepare for the BEST Program by running a high school coffee shop, filling vending machines for the school, and engaging in life skills training. He strives to give students every opportunity possible to gain work experience and access to their local communities so that they can be included and involved. Sousa's efforts and impact will continue to evolve for generations to come. As the quote from Verna Myers goes, "Diversity is being invited to the party. Inclusion is being asked to dance." As for Brock Sousa and those he engages with, the dancing never stops.
---
For additional information, please contact the Council at 573-751-2600 or by email at gcd@oa.mo.gov.