Governor´s Council on Disability (GCD)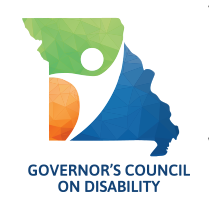 The Governor´s Council on Disability (GCD) promotes full participation and inclusion of the nearly 1 million Missourians with disabilities in all aspects of community life by educating citizens, businesses, schools, universities and others of their rights and responsibilities under the Americans with Disabilities Act.
We conduct educational seminars and on-site training as well as publish a legislative newsletter, a resource directory (available online only), and informational brochures on topics relating to people with disabilities.
We provide information about compliance with the Americans with Disabilities Act and assistive technology to maximize the productivity of people with disabilities. The Council offers assistance to other state agencies for compliance with all laws regarding persons with disabilities. It maintains communication with disability advocates and service providers to disseminate information and receive feedback on problems affecting people with disabilities in order to recommend policy improvements. The Council aims to promote positive images and protect persons with disabilities through equal access to services and employment opportunities.
The Council publishes the Directory of Resources for Missourians with Disabilities which is only available online. The directory lists programs and services of state and local offices, private agencies and other organizations serving people with disabilities.
Core Value Statements
Integrity
We value professional integrity and respect as these values provide a foundation for how we treat each other, our peers, and the individuals we serve. We communicate with sincerity and transparency by sharing knowledge and information with each other and customers.
Diversity/Accessibility
We value natural individual differences such as culture, religion, personality, and disability with a focus on bringing out the best in each person by embracing individual unique talents and honoring diverse life and work styles. Accessibility is a priority and extends to each product, service and encounter we have with ourselves, individuals we serve, and the community.
Collaboration/Leadership
We recognize the benefit of forging and maintaining partnerships with organizations and individuals that support our mission and vision. We provide leadership in order to create a more accessible and inclusive future. We work as a team to ensure the success of the entire agency by promoting its core values.
Dependability
We follow through on our commitments and deliver our very best in all we do, holding ourselves accountable for results. We continue to evaluate our programs and procedures to ensure best practices.